Meet Pedro Pérez, designer of the final exhibition of the VII BIAAF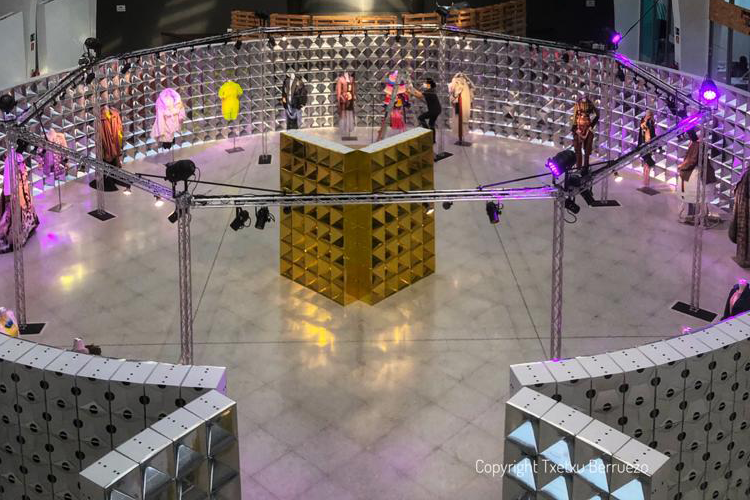 Reveals the ins and outs of the design of the exhibition, from the creation of the idea to its final execution.
How did you come up with the project idea and how was it materialized?
The proposal arose from the need to carry out a creative project with a limited budget, that was sustainable and recyclable. We took the kaleidoscope effect that mirrors exert when facing each other as an inspiring element, hence the idea of building cubes with faceted faces lined with a reflective material similar to a mirror's to emulate this effect.
How did you execute this concept idea?
The main material is microchannel cardboard lined with golden and silver mylar on one of the sides of the cubes. The project was carried out in three phases. The first one, focused on designing and building the 1,500 boxes that compose the circular structure; the second one, dedicated to the lining on one of each boxes' sides.This involved the work of three people for a whole month; and finally, the assembly of the structure in the exhibition space, set up by three of our staff members in five days' time.

You mentioned that the structure had to be sustainable and recyclable. How did you achieve this goal?
The design of the boxes' structure is modular and can be disassembled so that each box can be reused individually, enabling to create different configurations that adjust to new spaces in future exhibitions.The 1.500 boxes are removable, foldable and can be piled up and stored in just three pallets.
To conclude, how would you define the kind of staff members and activities developed at Zorrozúa y Asociados ?
Zorrozúa y Asociados is a Bilbao based company with 20 years' experience in designing and executing integral architectural and design services, with over 2,000 projects executed, of which 30% have been designed for overseas customers. We count with an experienced team of professionals in different fields: engineers, architects, designers… oriented to creativity and characterized by the uniqueness of the solutions we provide to museums, exhibitions, showrooms, work spaces, the retail sector, hotels and restaurants.