Sustainable makers assembly 2022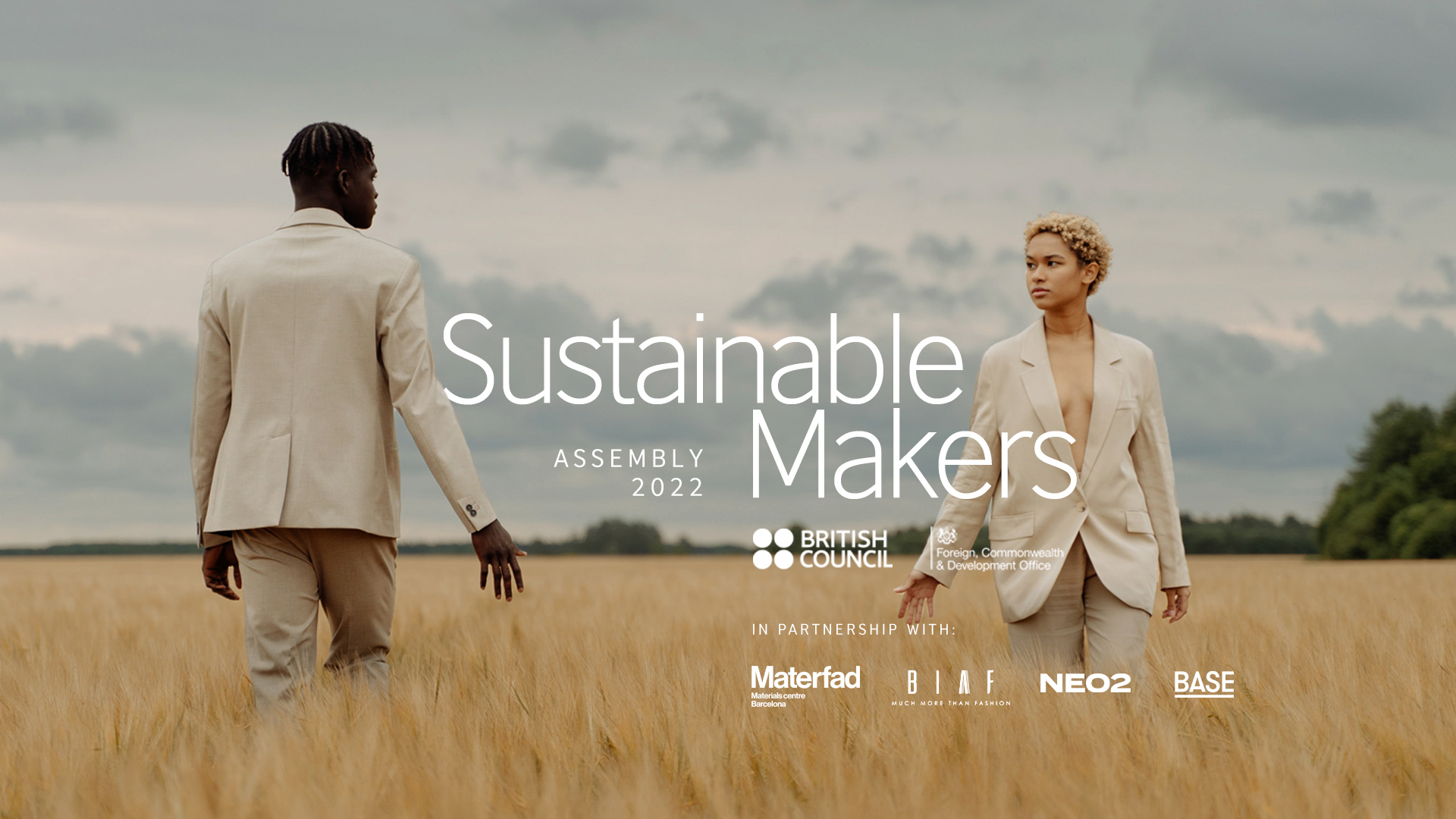 After the success of Sustainable Makers 2021, this new edition in partnership with the Foreign, Commonwealth and Development office, MATERFAD, BIAAF, Neo2 and BASE, will bring British and European expertise in circular design and future trends (materials and processes) to an audience of professionals and advanced practitioners from nine European countries who seek to find out more about the latest innovations and opportunities in this sector.
The British Council – Sustainable Makers Assembly 22,, co-curated by Zoe Powell Best y Laurina Samuel, will gather together top British experts such as Hannah Elisabeth Jones ,multidisciplinary artist-designer specialising in biomaterials and organic colour; Rhys Ellis , multidisciplinary designer recognised for bridging the gap between waste management and circular design; Harris Elliot ,creative director, curator and stylist from Le Tings; Robert Thompson from MaterFAD – Barcelona; and Natura/Osmose studios, interdisciplinary design studio focused on regenerative circularity and sustainability in fashion, homeware and furniture, among many others.
This exciting event will take place online with three different levels of access:
14th March: Inspirational talks & future trends – discovering the most innovative and forward-thinking solutions to take circular design to the next level. Unlimited access but advance registration required. You can register here.
15th March: Masterclass given by Sarah King, interdisciplinary design researcher and maker, supporting artists, individuals, and enterprises in the development of sustainable product innovations for social and commercial outcomes. This masterclass will get into the design-thinking behind sustainability in design, including activities focusing on circular sourcing and material life cycles. Open to up to 40 participants selected through an open call application available here
16th March: Virtual Open Studios tour: An interactive and digital collective visit to 4 design studios for 40 participants selected through the same open call.
The Masterclass and the Virtual Open Studios tour will take place on the exclusive Sustainable Makers Assembly Metaverse that allows participants to interact, exchange and organise networking meetings.
The Sustainable Makers Assembly 22 will explore four strands of practice:
Innovating with unconventional waste from industry (value of resources, supply chains, innovations, distributed design)
Natural material research (working with nature. nature inspired design, circular principles, uses of contextual local waste streams, regenerative practices)
Materials and community engagement (connecting through materials and products, building design communities, diverse, inclusive and equal working environments, new skills exchange/creation)
Running a business using sustainable materials (balancing materials, business growth and design legacies)
Deadline to apply: Thursday 10th March at 23:59 CET
The British Council Sustainable Makers Assembly is part of the Circular Cultures Spain programming, which has a  particular focus on supporting emerging talent and future trends.
Circular Cultures is the European arm of the British Council's global programme 'Making Matters'. This programme addresses sustainable design and creative economies, aiming to promote greater awareness  around circularity and sustainability. Aiming to embed a more critical dialogue around design and  circularity, this leads to developing skills and knowledge of making leaders and creating exciting new EU networks around sustainability and circularity. The programme currently operates in 9 countries across Europe: France,  Greece, Italy, Poland, Portugal, Romania, Spain, Sweden and the Netherlands.